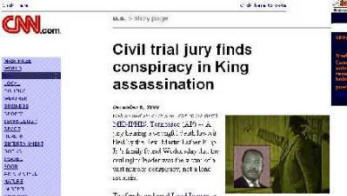 Jury concludes conspiracy in King's Death
Days after the murder of Martin Luther King Jr., former FBI agent Donald Wilson, claims he searched the abandoned car of the one man who confessed to killing King -- James Earl Ray.
Wilson said a small white envelope fell from underneath a door panel in Ray's car, but he never turned it over to the FBI and did not disclose its contents until last year.
The FBI attacked Agent Wilson's credibility, questioning whether he, as a rookie agent, even had access to Ray's car. However, the FBI has a credibility crisis of its own. After its handling of the Kennedy assassination under the reins of J. Edgar Hoover; which included unchecked evidence destruction and witness intimidation, and finally the total rejection of its conclusions in 1977-78 by the House Select Committee on Assassinations; the FBI is appealing to the results of a mock inquiry to assert its credibility. For example; former CIA Director Allen Dulles, a logical suspect in the assassination, reported directly to two other suspects, Hoover and Johnson, while a chair on the long discredited Warren Commission.
Donald Wilson claims he didn't immediately tell his superiors about what he found because he didn't want them to know that he tampered with the crime scene, and because Ray had already confessed.
A telephone number at the top of one of those papers was that of Jack Ruby's nightclub in Dallas. Ruby, of course, murdered Lee Harvey Oswald, a key part of insuring his trial wouldn't expose Oswald's status as an FBI employee at the time of his murder. Oswald, a double agent freshly culled from CIA operations in Russia, was hired by Hoover under the pretense he would infiltrate a communist conspiracy to assassinate President Kennedy. Part of the "play" included pro-Castro television and radio appearances on CBS and other network stations; where he discussed his Free Play for Cuba front organization. This made him the perfect "communist" patsy, particularly when Oswald realized there was a plan afoot to assassinate Kennedy in Dallas.
Ironically, Lee Harvey Oswald tipped off the FBI on September 17, 1963 that an assassination was being plotted. Later, William S. Walters, a security clerk employed in the Bureau's New Orleans office, gave D.A. Jim Garrison an affidavit stating that on the morning of November 17, 1963, he read a TWX that warned "an attempt to assassinate President Kennedy would be made in Dallas on November 22, 1963." This was Oswald last unheeded warning. Jack Ruby, who had ties with mob and the Dallas police chief, was hired to "arrow", or kill the patsy. And so he did.
The papers also contain the name Raul. Ray claimed a man with that name orchestrated King's murder.
---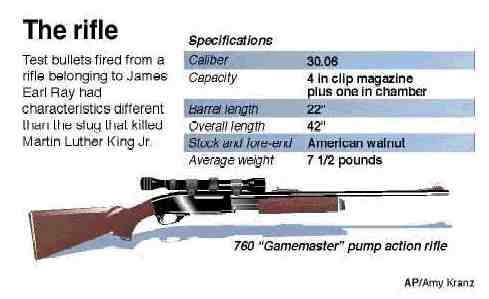 Justice Department Statement On MLK Investigation
January18, 1999
The following statement was issued by the Justice Department Wednesday announcing the investigation of Martin Luther King Jr.'s assassination: "Attorney General Janet Reno today announced that the Justice Department will conduct an inquiry into certain allegations regarding the 1968 assassination of Reverend Martin Luther King, Jr.
"The inquiry will review allegations raised by former FBI agent Donald Wilson and former Memphis bar owner, Lloyd Jowers, suggesting that there may have been an assassination conspiracy broader than James Earl Ray. The evidence gathered during the inquiry will be followed wherever it may lead.
"Even if the allegations were proven true, federal prosecutions may be barred because the relevant statutes of limitations have expired. But federal law gives the Attorney General the power to conduct an investigation to detect whether criminal activity took place, even if prosecutions are not possible.

Reference to mystery man Raul, who Ray claimed orchestrated the murder.

The number to Jack Ruby's Dallas bar. Coupled with earlier witness reports and leads, it is apparent Raul was also Johnson's CIA hit man in Dallas.

Lloyd Jowers.

Former FBI Agent Donald Wilson
"The decision to open the inquiry follows a Justice Department review of information presented by Mrs. Coretta Scott King and others. Attorney General Reno met with them April 8 at the request of President Clinton.
"We hope this review will provide answers to new questions that have been raised about a tragedy that still haunts our nation," said Reno.
"The King assassination was investigated in 1977-78 by the House Select Committee on Assassinations, and again in 1997-98 by the Memphis District Attorney's office.
"The inquiry will be overseen by the Department's Civil Rights Division, with support from the Criminal Division. Barry Kowalski, who prosecuted the officers who beat Rodney King, will serve as the led attorney investigating the allegations. Depending on its findings, Reno said that the Justice Department would consider what further action might be appropriate. She added that "the Department will issue a report outlining its findings."
---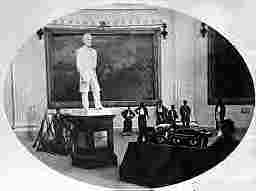 Lincoln lies in state.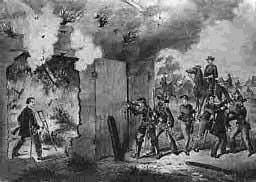 Dr. Samuel Mudd was sent to prison 133 years ago for helping Booth escape. Mudd's grandson, 97-year-old Dr. Richard Mudd of Saginaw, sued last year to have Mudd's conviction overturned.
UPDATE: OCTOBER 29, 1998, 21:42 EST
From AP:
Army To Reconsider 1865 Conviction
SAGINAW, Mich. (AP) — The Army was ordered Thursday to reconsider the conviction of a doctor who treated John Wilkes Booth after he assassinated President Lincoln.
Dr. Samuel Mudd was sent to prison 133 years ago for helping Booth escape. Mudd's grandson, 97-year-old Dr. Richard Mudd of Saginaw, sued last year to have Mudd's conviction overturned.
Federal Judge Paul Friedman in Washington, D.C., sent the case back to the Army on Thursday. Friedman said the Army's recent rulings against the request were arbitrary.
The morning after Booth shot Lincoln in the head at Ford's Theater, he came to Mudd's home in Maryland seeking treatment for the leg he broke while jumping from the president's box onto the stage. What happened after that is in dispute. A military commission convicted Mudd in 1865 of aiding Booth in his escape. Mudd said he did not know of Lincoln's assassination and failed to recognize Booth, a popular actor.
Federal troops killed Booth (sic) 11 days after Mudd put a cast on his leg. Mudd was pardoned by President Andrew Johnson, but his conviction was not overturned.
Richard Mudd argues that his grandfather, a civilian, was entitled to a civil trial. In 1992, the Army Board for Correction of Military Records concluded the military tribunal lacked jurisdiction at the time and recommended the conviction be set aside.
Army leaders twice rejected the recommendation, ruling the military tribunal had proper constitutional authority and that the jurisdictional question had been rejected during the doctor's lifetime.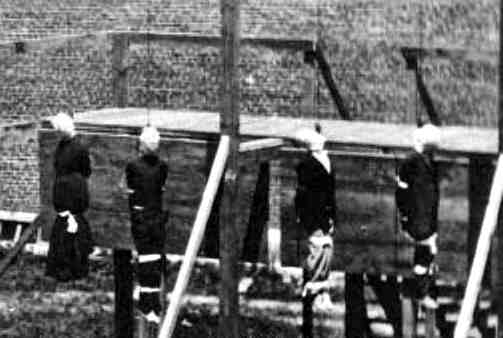 Execution of Lincoln Assassination conspirators.
Why did Mudd's case take 133 years for the mere consideration of a civilian trial he was entitled to? because it would prove Booth indeed survived, through traitors in the military and Lincoln's cabinet. It should be noted that an admitted conspirator, Union Gen. Lafayette Baker, knew they could only control the outcome of the trial by forcing a military tribunal. A civilian trial would've exposed the fact that the man killed by Scott Corbett was not John Wilkes tribunal. A civilian trial would've exposed the fact that the man killed by Scott Corbett was not John Wilkes Booth at all-- which is why Booth's body was never photographed or accessible to the defense. Indeed, Secretary of War Edwin Stanton, fingered by Gen. Baker, further implicated himself by hiding the key to Booth's alleged tomb and 18 pages from his diary in the days leading up to the assassination.