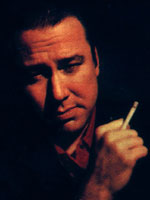 Bill Hicks on the JFK Assassination Yes, a few words to remind us about Artlen Specter, the infamous Magic Bullet's creator. (There is no statue of limitation on murder, and we haven't forgotten, Arlen) More on Bill Hicks.
---


The Luciferians In 1968, the Rolling Stones' Mick Jagger penned the lyrics of the classic hit "Sympathy for the Devil", which described the devil's role in major historical events from the crucifixion to the murder of the Kennedys.
---


The Harder Truth The video by the Center for Bio-Ethical Reform which Planned Parenthood doesn't want you to see. Pictured is Ana Rosa Rodriguez, a late-term abortion survivor. If you look closely, you'll notice that this child is missing her right arm. That's because her arm was ripped off in the process of an abortion on New York's Lower East Side in October of 1991. Ana Rosa was 32 weeks old at the time of the abortion. Rosa, Ana's mother had told Dr. Abu Hayat that she had changed her mind and didnít want to go through with the abortion. "He said that it was impossible to stop, that I had to continue," Rosa told New York Newsday. According to Rosa, Hayatís assistants held her down while he sedated her. When she awoke, she was told that the abortion was incomplete and that she should come back the following day. That evening, however, she experienced increasing pain and bleeding. Her mother took her to Jamaica Hospital by taxi, where, five hours later, baby Ana Rosa was born. Aside from the loss of her right arm, Ana Rosa is a perfectly healthy little girl.
---


Atlanta Child Murders Revisited In Atlanta, fingerprints, witnesses and even Caucasian hairs at the crime scene pointed to another man, or group of men. According to FBI documents only recently released, it was a Klan cell with local police connections. Click here for more...
---


The True Price of Klan Sympathies In 1995, in the rubble of the Oklahoma City Bombing, 168 men, women, and children may have died in vain so that this man could stay in office...Find out why there was Nowhere to Run